Our carts work equally as well with paralyzed pets as they
do with animals with arthritic hips or other degenerative
or neurological disorders.
Whether your pet needs temporary mobility while recovering from trauma or surgery, or you require a more permanent solution to your pets mobility problems, this cart can be fitted to suit those needs.
Don't be fooled by our low prices! Our carts have been
tested in a clinical environment and they work really, really well.
SOMETIMES SIMPLE IS JUST BETTER!
YES! WE BUILD RABBIT CARTS! yes! we build rabbit carts! YES! WE BUILD RABBIT CARTS! yes! WE DO! We do!
FULL Suspension:
For pets with rear leg paralysis. Completely suspends rear
feet up off the ground.
Walking:
For dogs learning to walk, arthritic pets or pets with only partial paralysis.
Feet touch the ground in rear.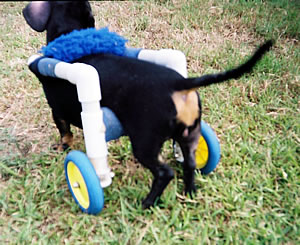 Dogs to Go carts are strong and safe
Dogs to Go carts were designed by a registered veterinary technician in a clinical environment
Dogs to Go carts offer mobility and freedom to disabled pets
Dogs to Go carts are very affordable
Dogs to Go carts offer a lifetime warranty with free repair or replacement
Dogs to Go carts are custom fitted for your pet
Dogs to Go carts are lightweight, comfortable, maneuverable and easy to use for both you and your pet
Dogs to Go carts are made with LOVE!
I want everyone to see how easily our cart can be modified to fit any situation. In the above photo, the little Bichon, Raggs and his buddy, Bitzie (who watches over him) live the country life. He needed a wider wheelbase to help him cross small creeks. Happy, happy dogs!
Yes, folks, that is snow! Our carts have made it all over the world. This was taken in China. No chains needed on these tires!
Lilli Loves Off Roading!
She lives in the Yukon and goes camping with family. Dad fitted her custom cart with soft pneumatic wheels so she could go over really rough terrain.Also check out our videos page to see Lilli cross country skiing with MOM.  It is amazing!
Please feel free to email or call us with any questions. We are always happy to help. We understand the frustration that goes with having a dearly loved pet that wants to get around, but can't. If we can't answer your questions, we will find someone who can!
And, a special note for Dachshund owners:
Many dogs DO recover despite very formidable odds. (Our own Penny is a shining example of a dog that was NOT SUPPOSED to recover!)
My best advice is to follow your heart. If your pet seems happy, despite the disability, then your pet IS HAPPY!
DON'T FORGET TO PURCHASE A COPY OF OUR MANUAL
"CARING FOR A DISABLED PET" (Written by Laurie Miller, RVT)
Available on our "ordering" page.
This one of a kind self help manual, written by a registered veterinary technician has been one year in the making, and it covers everything you need to know about taking care of your recently disabled pet.
23 years of clinical experience have gone into this manual and I wrote it to help owners get through the difficult times.
We use this manual as a handout in the surgical practice where I work.  It is invaluable to owners of recently disabled pets.
Full color photos and detailed instructions for everything. Including:
Expressing bladders
Friction sores
Lots of good, simple physical therapy exercises you can do at home.
This amazingly informative one of a kind, manual is now available through our website for only
$28.95 (plus $5.50 s&h)
ORDER YOURS TODAY!