HERE'S OUR EASY TO USE MEASUREMENT CHART!
PLEASE NOTE: IF YOU ARE NOT READY TO ORDER YOUR CART, AND/OR HAVE QUESTIONS, PLEASE FILL OUT OUR INFORMATION FORM. IT CAN BE FOUND ON OUR PAGE "GETTING STARTED, INFORMATION WE NEED FROM YOU", OR EMAIL US (DOGSTOGO19@AOL.COM) SO WE CAN DISCUSSS YOUR QUESTIONS BEFORE YOU ORDER.
WE NEED YOUR PET'S MEASUREMENTS before YOU PLACE YOUR ORDER.   PLEASE SUBMIT THIS MEASUREMENT FORM FIRST.  WE WILL EMAIL YOU THE ORDERING AND PAYMENT INSTRUCTIONS ONCE WE GET THE INFORMATION ON THIS FORM.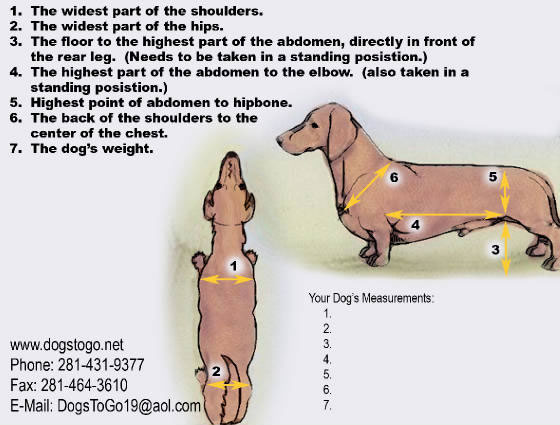 FOLLOW THE INSTRUCTIONS ON THE MEASUREMENT CHART ABOVE TO MEASURE YOUR PET FOR THE CART. (USE THIS CHART FOR RABBBITS ALSO)
Please be sure to use a ruler or metal tape measure. Do not bend the tape when taking shoulder and hip measurements, simply lay the ruler or tape across the pets body.  Do not include hair, just body wall to body wall.  All measurements are straight line.
NOTE: IF YOUR MEASUREMENT INCLUDES A FRACTION (EG 1/2) PLEASE MAKE IT IN THE FORM OF A DECIMAL. EXAMPLE 5 1/2 WOULD BE WRITTEN AS 5.5. CHART WILL NOT ACCEPT FRACTIONS!
*****IN ORDER TO CONFIRM THE NUMBERS, IT IS REALLY HELPFUL IF YOU CAN ALSO EMAIL US A COUPLE OF PHOTOS OF YOUR PET.  PREFERABLY A SIDE VIEW WITH YOUR MEASURING TAPE OR RULER NEXT TO YOUR PET AND ONE FROM ABOVE SHOWING THE WIDTH MEASUREMENT (#1) OF YOUR PET'S SHOULDER AREA.
HELPFUL HINTS:
#3 RABBIT MEASUREMENT: Lay your bunny on it's side and measure from bottom of belly (right in front of rear leg) to tip to toes. Keep hock slightly bent as if in mid hop. Keep rear leg pointing down like it would be if your bunny was standing on it.
Take a look at the photos below to help you. You may also measure with rabbit in position shown for both #3 and #4. Be sure NOT to bend tape around body or measure fur.
#4 measurement is the most important and it may be taken with your pet laying on it's side. Place the end of the tape or ruler against the BACK your pet's front leg (up near the chest wall) and run it back until you touch the FRONT of the rear leg about thigh level. Keep front and rear legs pointing down as if your pet were standing on them.
As you can see from this photo, Jacob's full suspension cart is a perfect fit. Let it help you in taking measurements of your pet.
There will be some room for adjustments, so don't worry if your little wiggle worm won't cooperate! We can usually tell if the numbers are off or not once we see them all together.